Discover "Healthy Breakfast Ideas Dietitians Say Will Fuel Your Morning" You may want to start prioritizing breakfast in your daily routine if you don't already. Although research is mixed on the exact benefits of eating a daily breakfast, studies have shown that eating a healthy breakfast can help you consume more essential nutrients throughout the day than people who don't. Nevertheless, breaking your fast properly is very important, since starting the day with sugar and refined carbohydrates can lead to blood sugar spikes and fatigue.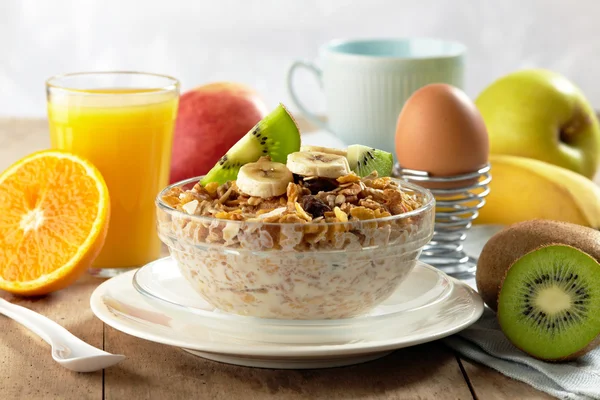 What constitutes a healthy breakfast? It is a good idea to have a breakfast that is balanced with protein and fiber, as both of these nutrients can keep you full and satisfied until lunchtime. Additionally, it will contain vitamins and antioxidants, usually from fruits or vegetables. The last point is that there will not be much sugar or refined carbohydrates added, and instead there may be natural sweetness from fruit, nut butter, or honey.
30 Healthy Breakfast Ideas Dietitians Say Will Fuel Your Morning
If this is beginning to convince you to prioritize breakfast more often, or if you're feeling inspired to try healthier meals in the morning than what you're doing now, try some of these 30 healthy breakfast ideas. Read 7 Breakfast Habits To Curb Cravings & Lose Weight to learn more about healthy eating.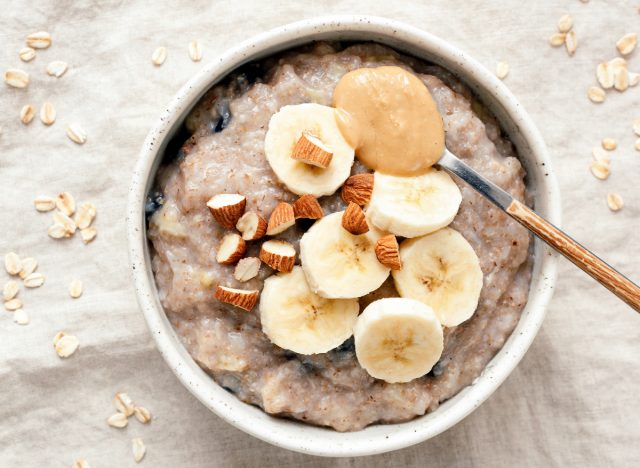 A bowl of oats is a breakfast staple for a reason! "Oatmeal is a great breakfast idea to incorporate into your diet as it is highly nutritious, satiating, and extremely filling due to its rich fiber content," says Lisa Young, PhD, RDN. "Moreover, oatmeal contains a specific type of insoluble fiber like beta-glucan, which can lower one's blood glucose as well as reduce one's risk of developing heart disease or diabetes."
Young suggests "Pairing your oatmeal with some berries and a banana and top it with a nut butter for some healthy fats."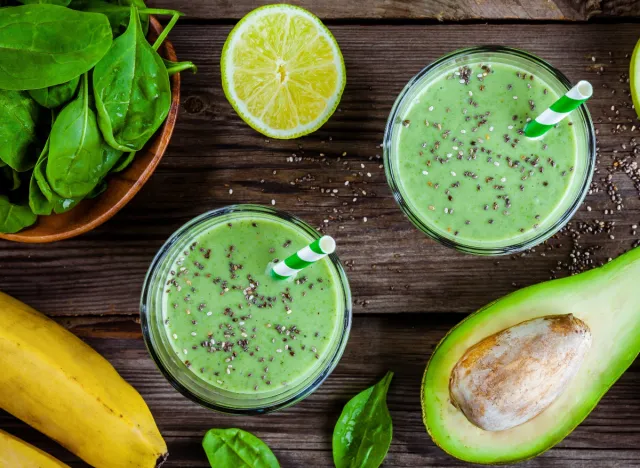 When you're in the mood for a smoothie but want something more filling, Young suggests making it with fruit, greens, flax and chia seeds, nut butter, and protein powder.
"A healthy and filling smoothie is going to consist of fruit, green vegetables, omega 3's, healthy fats, protein, and fiber," says Young. "The fruit and vegetables will provide fiber for the smoothie, a healthy fat such as a nut butter can also influence feelings of fullness, and protein from the protein powder is essential for building and repairing muscles and bones as well as contributing to fullness."
An easy breakfast that you can make ahead of time and heat up in the morning is a couple of frittata bites. You can make them from scratch and throw the leftovers in the fridge, or you can buy some pre-made ones from the store.
"Applegate Frittata Bites are Certified Humane frozen egg bites that are a 100% natural, high-protein breakfast bites featuring real, recognizable ingredients like chicken breakfast sausage and bacon," says Lauren Manaker, MS, RDN.
For those mornings when it feels like there's barely time to brush your teeth, it can be tempting to grab a muffin or donut as you rush out the door. However, without any fiber or protein, these pastries won't keep you full. Instead, try a snack or granola bar like Dave's Killer Bread Organic Snack Bars.
"For the ultimate grab-and-go breakfast pick, these bars are power-packed with fiber and quality organic whole grain ingredients," says Manaker. "Like everything made by Dave's Killer Bread, they're Certified USDA Organic, Non-GMO Project Verified, and contain no artificial ingredients, artificial preservatives, colors or flavors, and are free of high fructose corn syrup and bleached flour."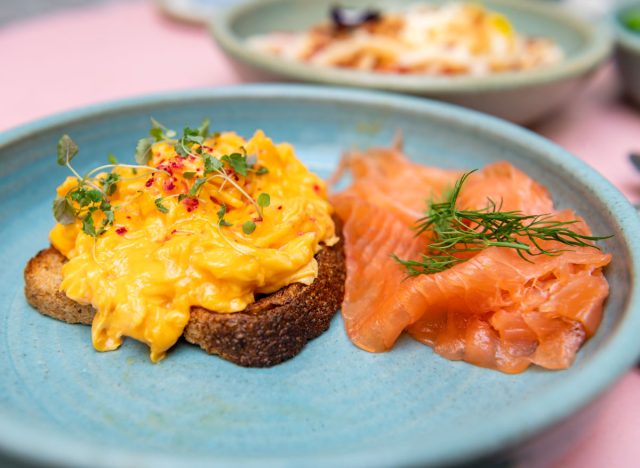 For a type of toast other than avocado, try scrambled eggs and salmon on a slice of whole-grain bread. "Salmon is rich in omega-3 fatty acids, which are excellent for heart health, and combined with protein-packed scrambled eggs, this healthy breakfast provides a steady source of energy, keeps you feeling full, and supports brain function," says Mary Sabat MS, RDN, LD.6254a4d1642c605c54bf1cab17d50f1e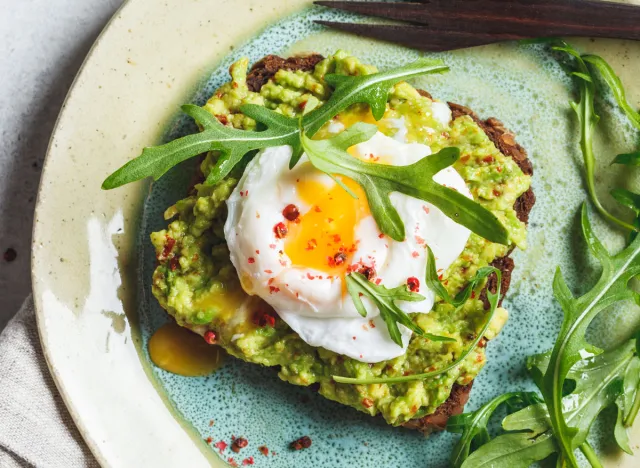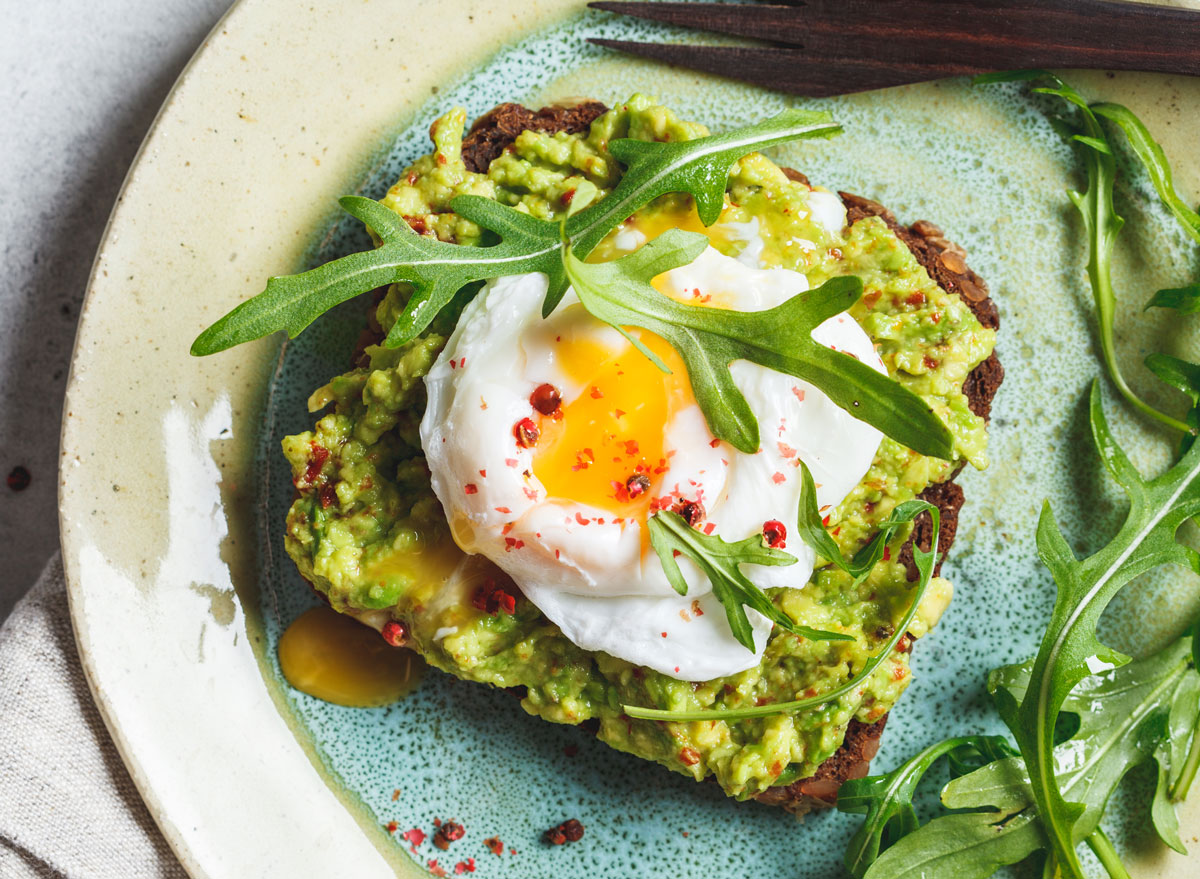 Avocado toast took the last few years by storm, and it's for good reason. Not only do avocados taste creamy and delicious, but they provide a ton of healthy benefits as well.
Young suggests a healthy breakfast of avocado toast paired with eggs "because avocados are a source of monounsaturated fats, which can help reduce LDL cholesterol levels as well as lower one's risk of developing a stroke or heart disease, and avocados are an excellent source of fiber, which is essential for keeping one full for a long period of time."
In addition to the benefits of the avocado, "a whole grain slice of toast will also contribute to the fiber content of the meal, and whole grains are excellent for gut health and maintaining balance in your microbiota," says Young. "Furthermore, eggs are a great source of protein, and protein can help decrease appetite and hunger levels, as well as strengthen your muscles and bones."
When you want a breakfast that is quick, easy to make, and on the savory side, Amy Goodson, MS, RD, CSSD, LD suggests a bowl of savory oatmeal.
"Research suggests that eating approximately 30 grams of protein at breakfast can help stabilize your blood sugar throughout the morning and set a positive base for the whole day," she says. "And when you pair high-quality protein with fiber-rich food like oats, you get added benefits when it comes to getting full faster and staying full longer after a meal. Adding savory ingredients like lean ground beef breakfast sausage or topping your oats with a sunny side egg are fantastic ways to add high-quality protein and nutrients to your morning oats."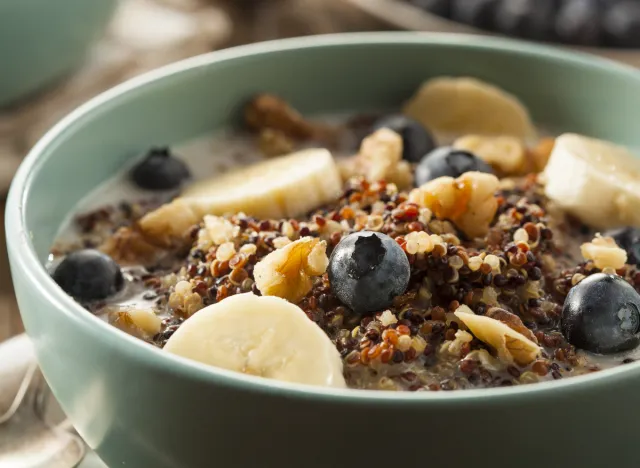 Most people may only associate quinoa as a lunch or dinner grain, but you can easily throw together a delicious quinoa breakfast bowl full of healthy ingredients.
"Quinoa is a complete protein and a great source of fiber, and you can use it to create a breakfast bowl by mixing cooked quinoa with almond milk, fresh fruits, and a drizzle of honey," says Sabat. "This combination offers a balanced blend of carbohydrates, proteins, and vitamins to kickstart your day."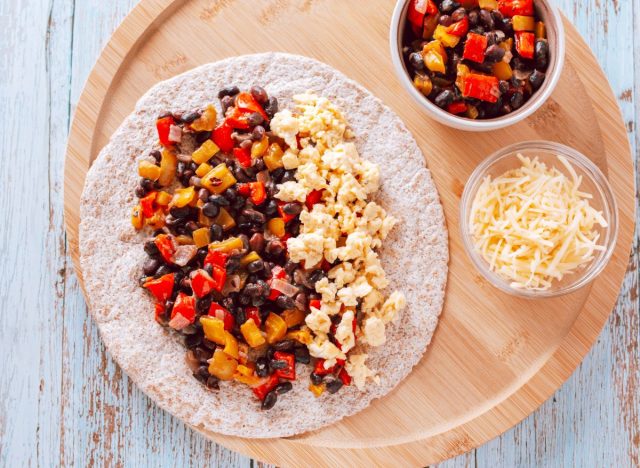 Fiber and protein help to keep you feeling full until lunch, and a sweet potato and black bean breakfast burrito is the perfect way to get both of these essential nutrients.
"Sweet potatoes are loaded with vitamins and fiber, while black beans add protein and fiber to your meal," says Sabat. "Wrap them in a whole-grain tortilla with some avocado slices for healthy fats, and you have a satisfying breakfast that stabilizes blood sugar levels and supports digestive health."
If you're craving eggs but are tired of eating them scrambled or sunny side up, Sabat suggests trying Shakshuka—a classic Middle Eastern dish "made with poached eggs in a spicy tomato and vegetable sauce." She recommends this as a healthy breakfast because "Shakshuka is rich in lycopene from tomatoes, which is linked to various health benefits, and provides a hearty dose of protein and vitamins. The spices also add a kick of flavor and metabolism-boosting properties."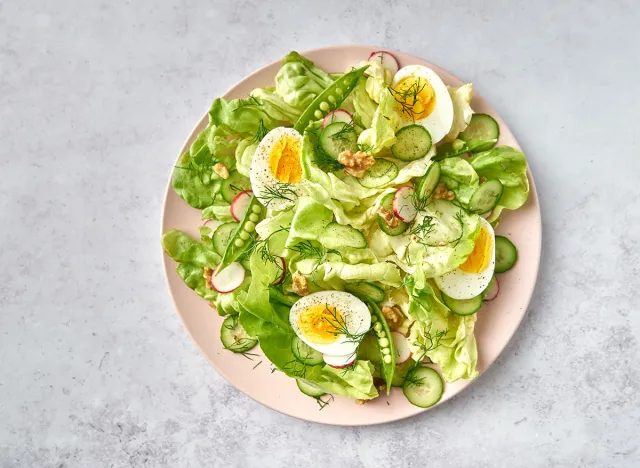 It may surprise you to think of a salad for breakfast but don't knock it until you have the chance to try it. Sabat suggests a breakfast salad full of greens, nuts, and berries, as "The greens offer essential vitamins and minerals, berries are packed with antioxidants, and nuts provide healthy fats and protein," says Sabat. "Drizzle with a light vinaigrette for extra flavor and health benefits."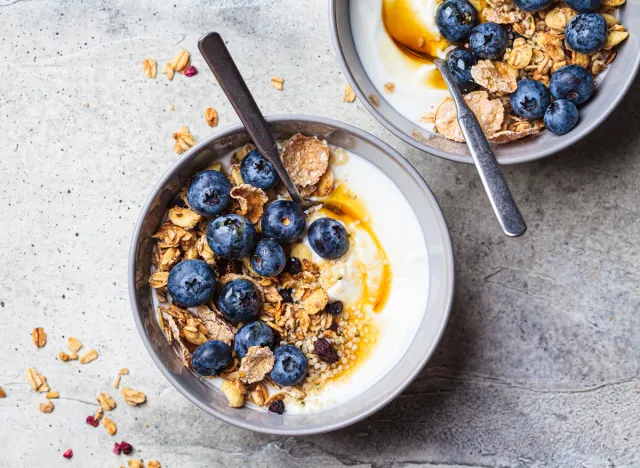 Greek yogurt is an excellent way to get a boost of protein while keeping your fat and sugar levels on the lower end (specific levels depend on the brand and flavor), but if you want to take your breakfast up a notch, you can also add some fruit and nuts for even more nutrients and staying power.
"This healthy breakfast is a good combo of protein, antioxidants, fiber, healthy fats, and it comes together quickly and is quite satisfying," says Vandana Sheth, RDN, CDCES, FAND, a registered dietitian nutritionist and Califia Farms nutrition partner.
Another easy, nutritious breakfast that Sheth suggests whipping up is a pumpkin chia seed pudding, just in time for the fall season!
"This is a fun and easy breakfast, and with just a few minutes at night, you can have a delicious meal to go the next day," she says.
So how do you make this pudding? "Mix two tablespoons of chia seeds with two tablespoons of pumpkin puree, and 1/4 cup of pumpkin spice creamer," says Sheth, who suggests using Califia Farms for your creamer. Then, once you're done with that, just "stir and set in the fridge overnight."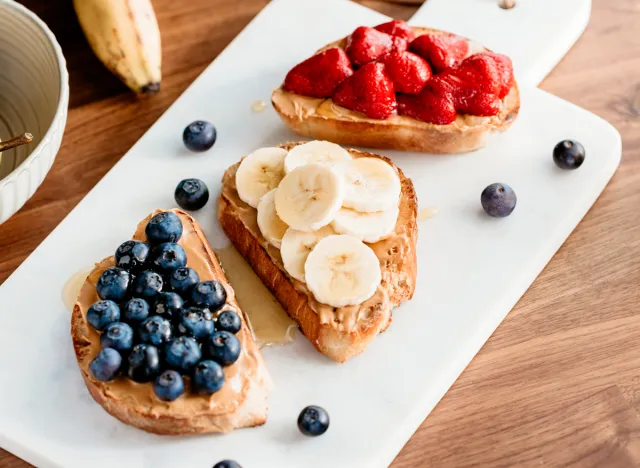 Avocado and eggs are the popular choice for savory toast in the morning, but what about those days when you're craving something on the sweeter side? When these cravings strike, Sheth recommends grabbing a slice of whole-grain, high-fiber bread and topping it with your favorite nut or seed butter.
"This is an easy breakfast that provides carbohydrates, fiber, protein, healthy fats, and flavor," says Sheth.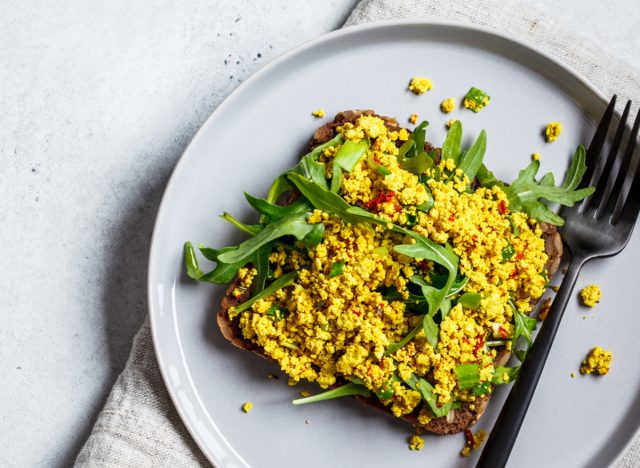 You don't have to use eggs to enjoy a morning scramble. If you're eating a plant-based diet or are just looking for a way to cut costs and buy fewer eggs, try a tofu and veggie scramble for breakfast. In fact, tofu isn't just affordable—it's healthy, too. The American Heart Association recommends eating tofu because of its high levels of calcium, iron, and other helpful minerals.
"Sauté some vegetables with tofu and spices to create a plant-based protein and fiber-rich bowl," says Sheth. "Then top it with some avocado for additional healthy fat and enjoy it as is, with toast, or inside a tortilla as a burrito."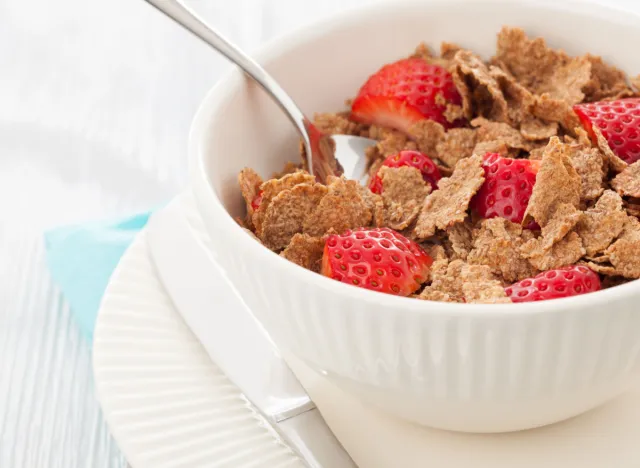 Certain types of popular cereal brands are nothing more than sugar and refined carbohydrates, but there are some high-protein, high-fiber brands out there that make for a great breakfast. And paired with almond milk, you'll have yourself a balanced meal to start your day.
"I love this plant-based breakfast combo because it's super easy. Just simply pour cereal and almond milk into a bowl and enjoy as is or topped with some fruit," says Sheth. "The cereal will provide crunch, carbs, fiber, and protein and the unsweetened almond milk will provide a smooth and tasty plant milk with minimal carbohydrates."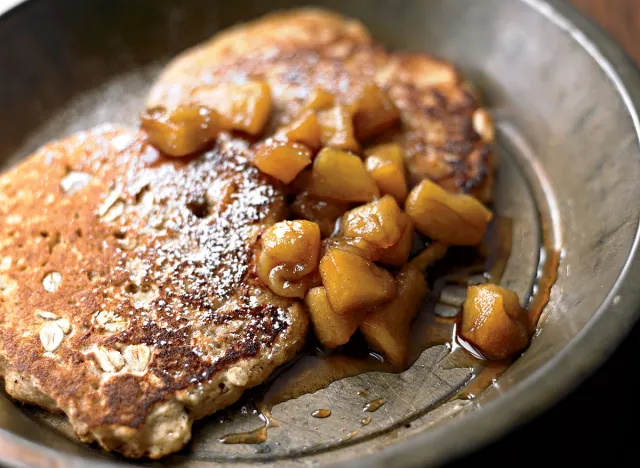 Most pancakes are made up of mostly sugar and refined flour, making them a breakfast that has almost no nutritional value whatsoever. If you're still wanting a sweet treat in the morning that also helps give you a little more fiber than regular pancakes, you can try these oatmeal pancakes, which use rolled oats and whole wheat flour instead of refined white flour.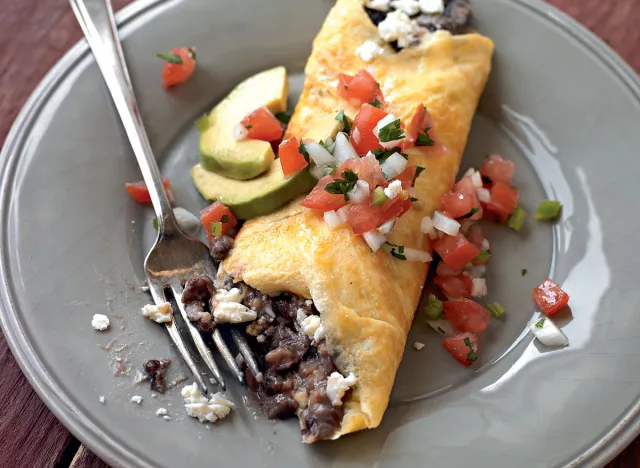 Starting your day off with an omelet is a healthy choice to make every time. For one, the eggs will give you a boost of protein and choline—a nutrient that helps with cognitive function, mood, and muscle health. On top of that, you'll get about four grams of fiber from the black beans, which can help you start your day with a healthier gut.
A popular parfait combination is yogurt with berries, nuts, and honey, but this Greek yogurt recipe is a classic breakfast with a spin. It features kiwi, pineapple, mango, and a delicious ginger syrup. To make the syrup, all you need is ginger, water, and sugar, and you can keep the syrup in the fridge for other meals and beverages throughout the week.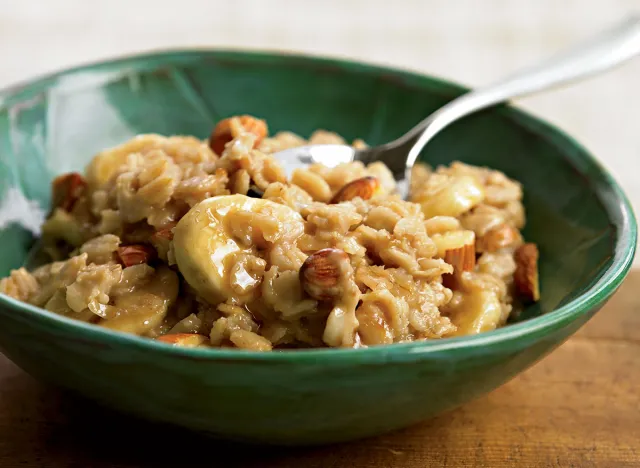 A comforting and cozy way to start your day, this bowl of oatmeal, peanut butter, and banana will satisfy your sweet cravings and keep you feeling full until lunch. If that weren't reason enough, you'll also get protein and healthy fats from the peanut butter, as well as a dose of potassium, vitamin B, and vitamin C from the banana.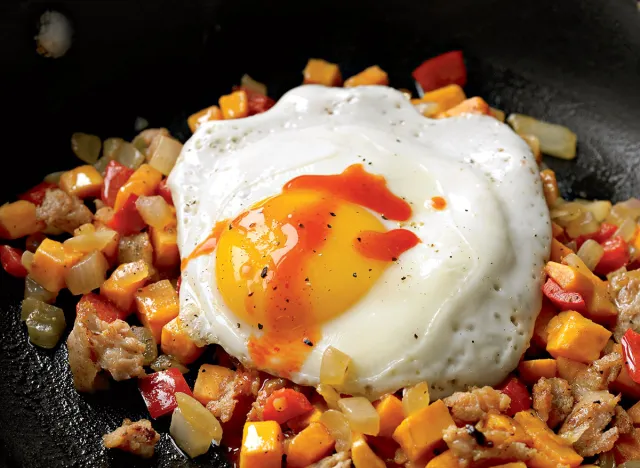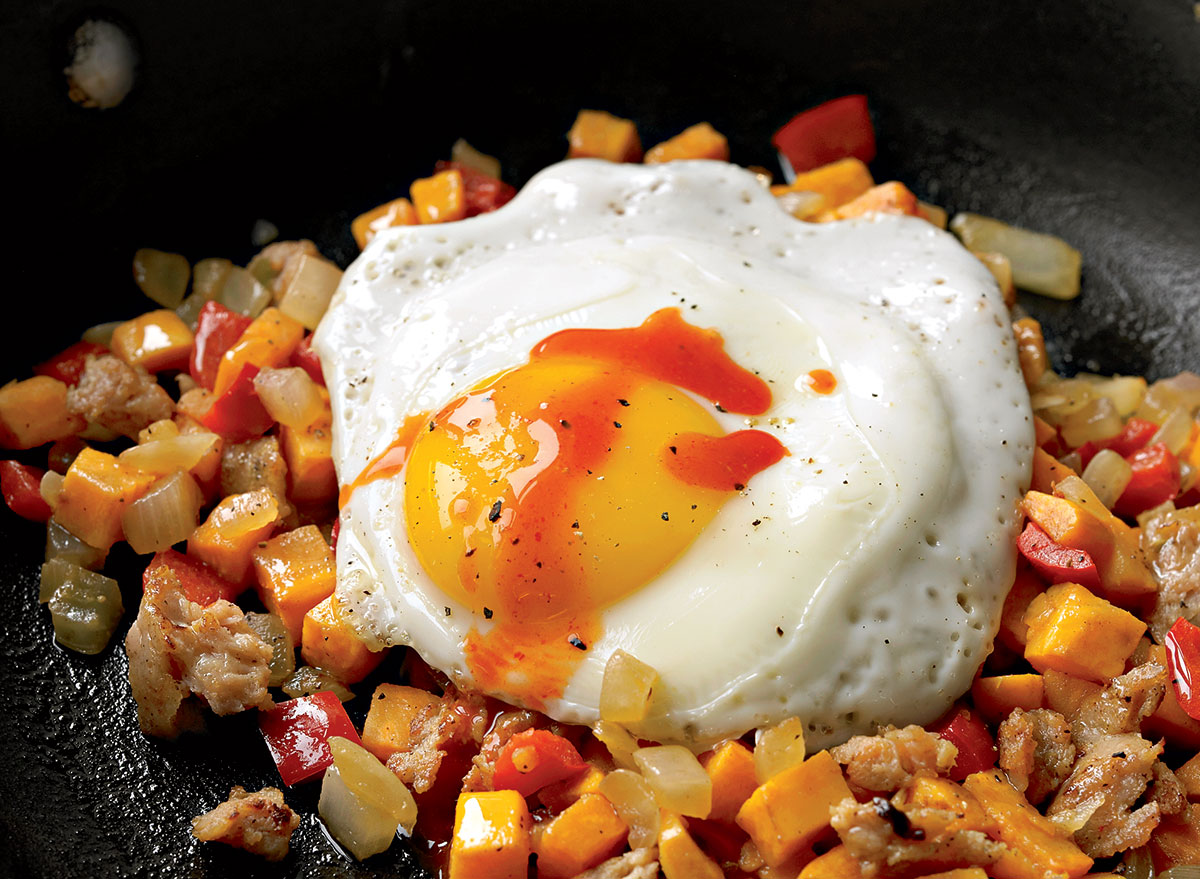 Sometimes the easiest meal to make is one where you can chop your ingredients and then throw them all into one pan while they cook. That is all this recipe requires of you, and the end result is a satisfying, high-protein morning meal.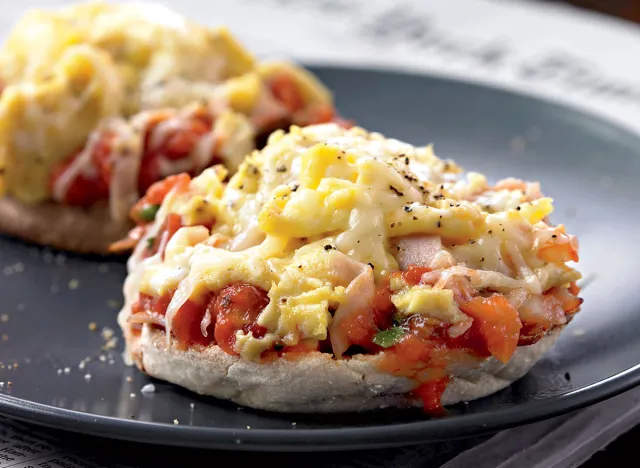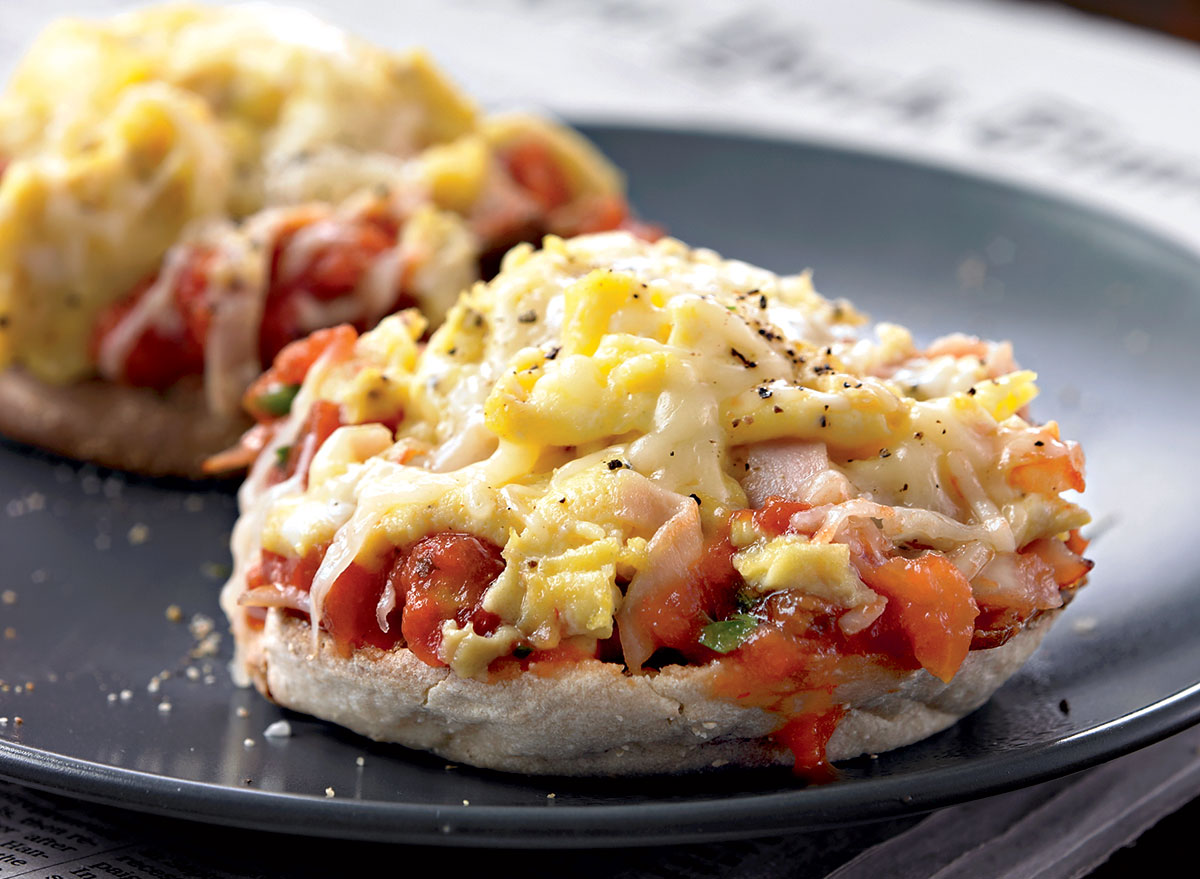 These aren't your typical pizzas, but they're healthier, more filling, and take much less time to cook than the pizza you're used to. The eggs and ham will give you plenty of protein to start your day, while the multigrain English muffin will give you some fiber and help you keep refined carbohydrates at bay.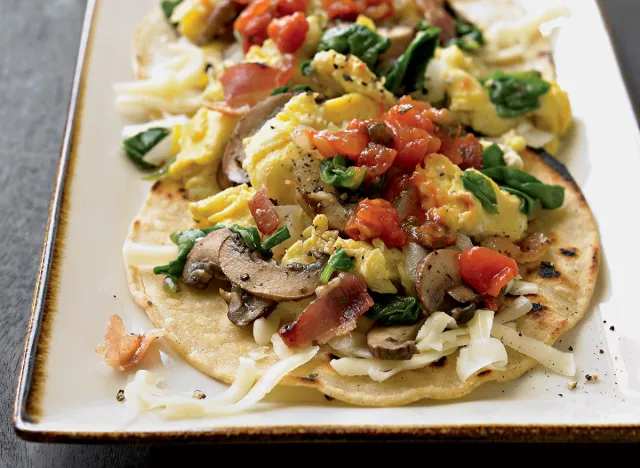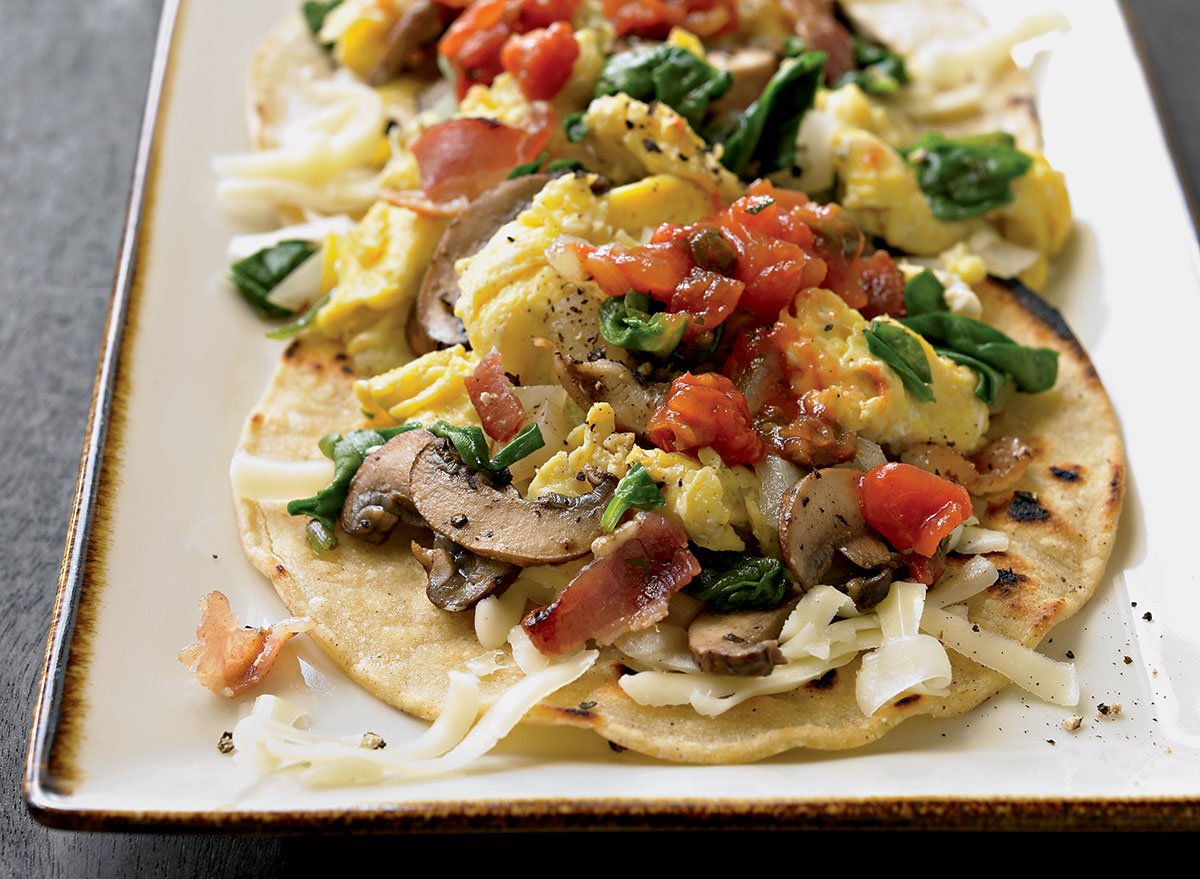 Grab some tortillas and add pretty much any of your favorite ingredients, and you'll have yourself some breakfast tacos. They're easy to make and fairly quick, and if you choose protein-heavy toppings, you'll be more likely to stay satiated until it's time for lunch. This particular recipe uses bacon, spinach, mushrooms, eggs, and cheese for plenty of protein and some powerful antioxidants coming from the spinach and mushrooms.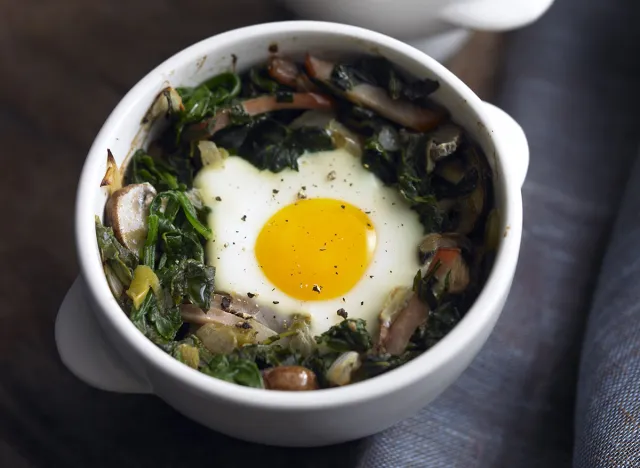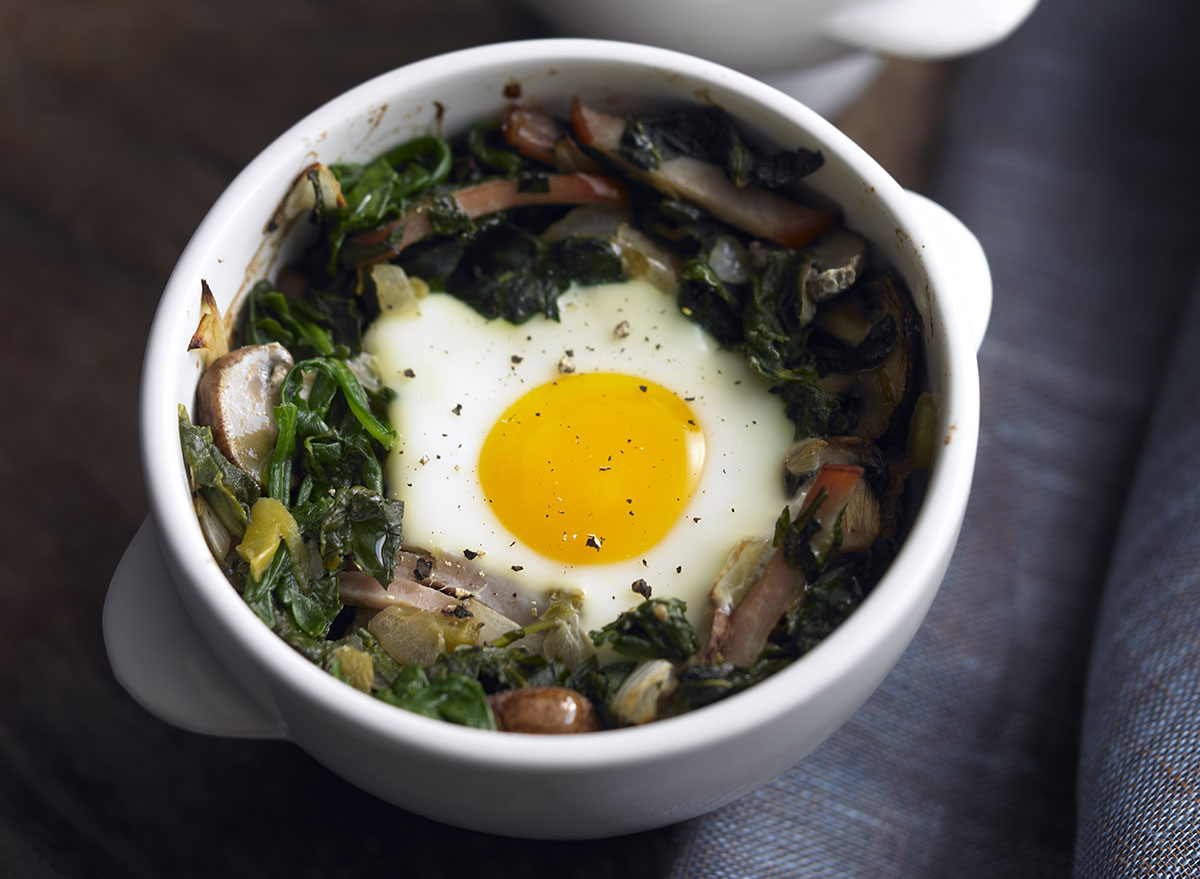 If you want the same flavor combination of spinach, mushrooms, and eggs but without the breakfast taco, you can always try a quick baked egg recipe. All you need is the egg, vegetables, and a small oven-safe dish. This healthy breakfast is perfect for those who want a lower-carbohydrate option in the morning that still has protein and nutrients.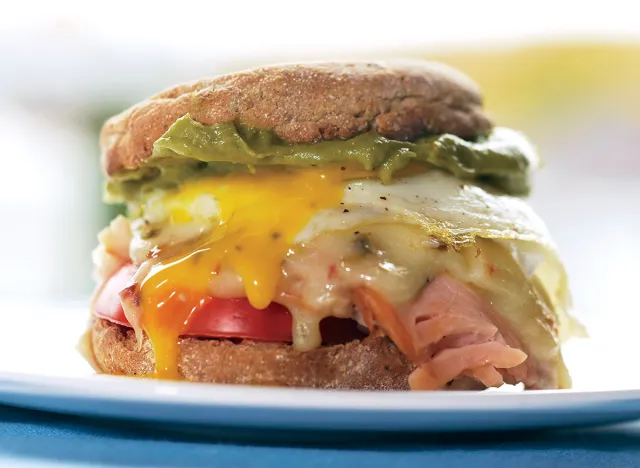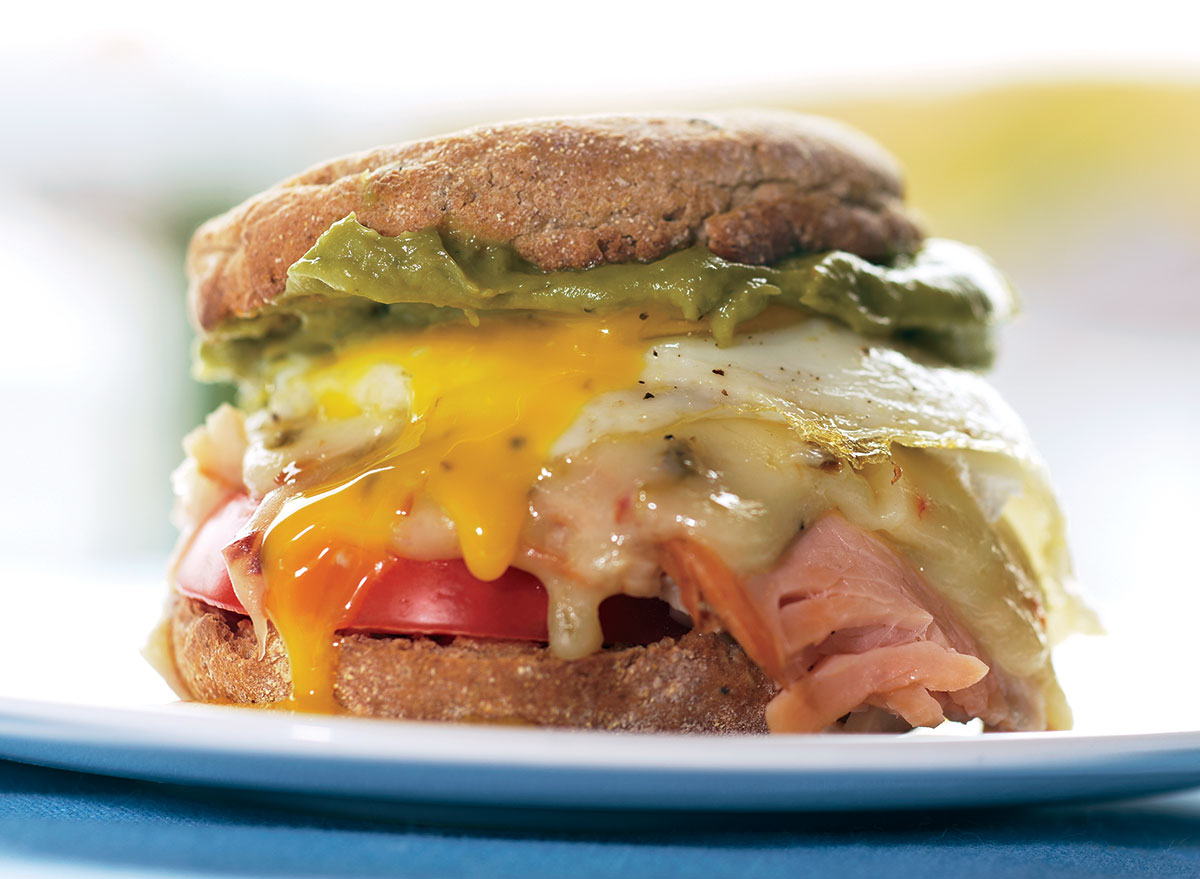 When you have a few minutes in the morning to craft the perfect breakfast sandwich, your taste buds and stomach will be grateful. Breakfast sandwiches allow you plenty of room to include whichever ingredients you like, and for the healthiest option, we suggest balancing it out with a wholegrain English muffin, lean meat, egg, and your vegetables of choice.
Eating enough fiber in the morning will help you meet your daily fiber goals, as well as promote healthy digestion, and aid in making you feel full and satisfied until your next meal. For a breakfast that is high in fiber and protein, try a burrito made with a whole-wheat wrap, eggs, beans, and any vegetables you enjoy.
When looking for another type of breakfast sandwich to make, you can always try egg, Swiss cheese, and pastrami together for a burst of flavor and protein. The thing to keep in mind with processed meat like pastrami is that even though it is high in protein, these meats are often also on the higher end of sodium and preservatives, so it's best to consume them in moderation or look for low-sodium varieties..
Omelets are the perfect healthy breakfast idea when you have those random vegetables left in your fridge that are going to go bad soon. Toss in your veggies with some eggs, cheese, and meat of choice, and you'll have a delicious breakfast in a matter of minutes.
The reason for the name "Eggs in Purgatory" depends on who you ask, with the most common answer being that the eggs represent the souls and the tomato sauce the purgatory-like space where the souls are left to wander. Regardless of meaning, this dish consists of cooking eggs in a flavorful, antioxidant-rich tomato sauce, so you can't go wrong.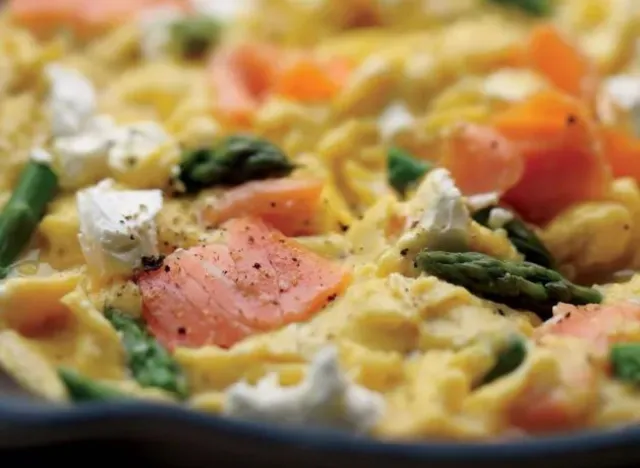 You can scramble just about anything in your eggs, but why not change it up and try a more unique flavor combination? For healthy fats, protein, and powerful vitamins and antioxidants, throw some salmon, asparagus, and goat cheese into your next scrambled egg breakfast.